Description

Information is all around us, but while most people view data such as Hong Kong's weather conditions as quite mundane, media artist Keith Lam sees a resource that can be harnessed to create kinetic, immersive performances.

In Hyperreality, Keith Lam partners with composer and musician Fung Lam to create a multimedia experience powered by such unexpected information and accompanied by music composed by Fung Lam and the Grammy Award-winning George Crumb from the USA. The music is performed live by the Hong Kong Contemporary Music Group and also includes a recorded performance by Cong Quartet.

Crumb's Black Angels was written during the time of the Vietnam War. Its three movements, "Departure", "Absence" and "Return", echo the world's current turmoil, while the dialogue between the turbulent music and Keith Lam's video art and installation adds a layer of complexity to the performance. Fung Lam's new composition Four Realities for ensemble and electronics responds to Black Angels' sobriety and Keith Lam's visual landscape with music for this new age performed by saxophone, cello and an electronic soundscape. The music is performed live by the Hong Kong Contemporary Music Group and also includes a recorded performance by Cong Quartet.

Hyperreality is a mesmerising musical experience that explores the real state of the world beyond mass media images. Come and discover the invisible mindscape of music.


Repertoire:
George Crumb: Black Angels for Electric String Quartet
Performed by Cong Quartet (recorded performance):
Violin: Francis Chik, Chow Yip-wai
Viola: Evan Robinson
Cello: Cheng Yan-ho


Fung Lam: Four Realities for Ensemble and Electronics
Performed by:
Hong Kong Contemporary Music Group
Saxophone: Charles Ng, Timothy Sun


Artistic Team:
Director, Media Artist: Keith Lam
Music Director, Composer and Performer: Fung Lam
Media Arts Team: Dimension Plus

Ensemble:
Hong Kong Contemporary Music Group
Saxophone: Charles Ng, Timothy Sun

Recorded performance: Cong Quartet
Violin: Francis Chik, Chow Yip-wai
Viola: Evan Robinson
Cello: Cheng Yan-ho

簡介

遊走於光影流動的空間,沉浸於濃郁而神秘的當代音樂裏,《超真實》裝置音樂會以演奏(虛擬及現場)與香港作曲家林丰和美國當代作曲巨擘喬治・克倫姆的作品為主軸,融合藝術裝置、互動媒介、燈光設計以及多維度環迴音響,讓你走進歷史與當下現實的分裂與循環,享受一幕幕超越虛擬與真實界限的音樂盛宴。

媒體藝術家林欣傑,以他的多媒體空間裝置,與香港作曲家林丰和美國當代作曲巨擘喬治.克倫姆的音樂對話。剛於2022年去世的克倫姆,在戰火蔓延的越戰時期,寫下傳世的弦樂四重奏《黑天使》。

來到二十一世紀,戰火疫病降人間,生命似重奏如循環,我們彷彿再次回到一個混沌時代,此刻《黑天使》再次響起,給世人帶來新啟示與新警示。林丰以新創作的《四重維度》與《黑天使》隔代呼應,薩克斯管、大提琴與電子音樂奏出的新世紀樂章與舊世界的經典碰撞,虛實交錯演奏,觀眾遊走於聲光影的劇場空間,體驗一場獨一無二的「超真實」音樂會。


曲目:
喬治・克倫姆:《黑天使》電子弦樂四重奏
Cong四重奏(錄音演出):
小提琴:戚耀庭、周業瑋
中提琴:Evan Robinson
大提琴:鄭恩浩

林丰:《四重維度》,為樂隊及電子音樂而作
演出:
香港當代音樂團
薩克斯管:吳漢紳、孫穎麟


藝術團隊:
導演,媒體藝術家:林欣傑
音樂總監、作曲及演出:林丰
媒體藝術團隊:超維度

樂團:
香港當代音樂團
薩克斯管:吳漢紳、孫穎麟

錄音演出:Cong四重奏
小提琴:戚耀庭、周業瑋
中提琴:Evan Robinson
大提琴:鄭恩浩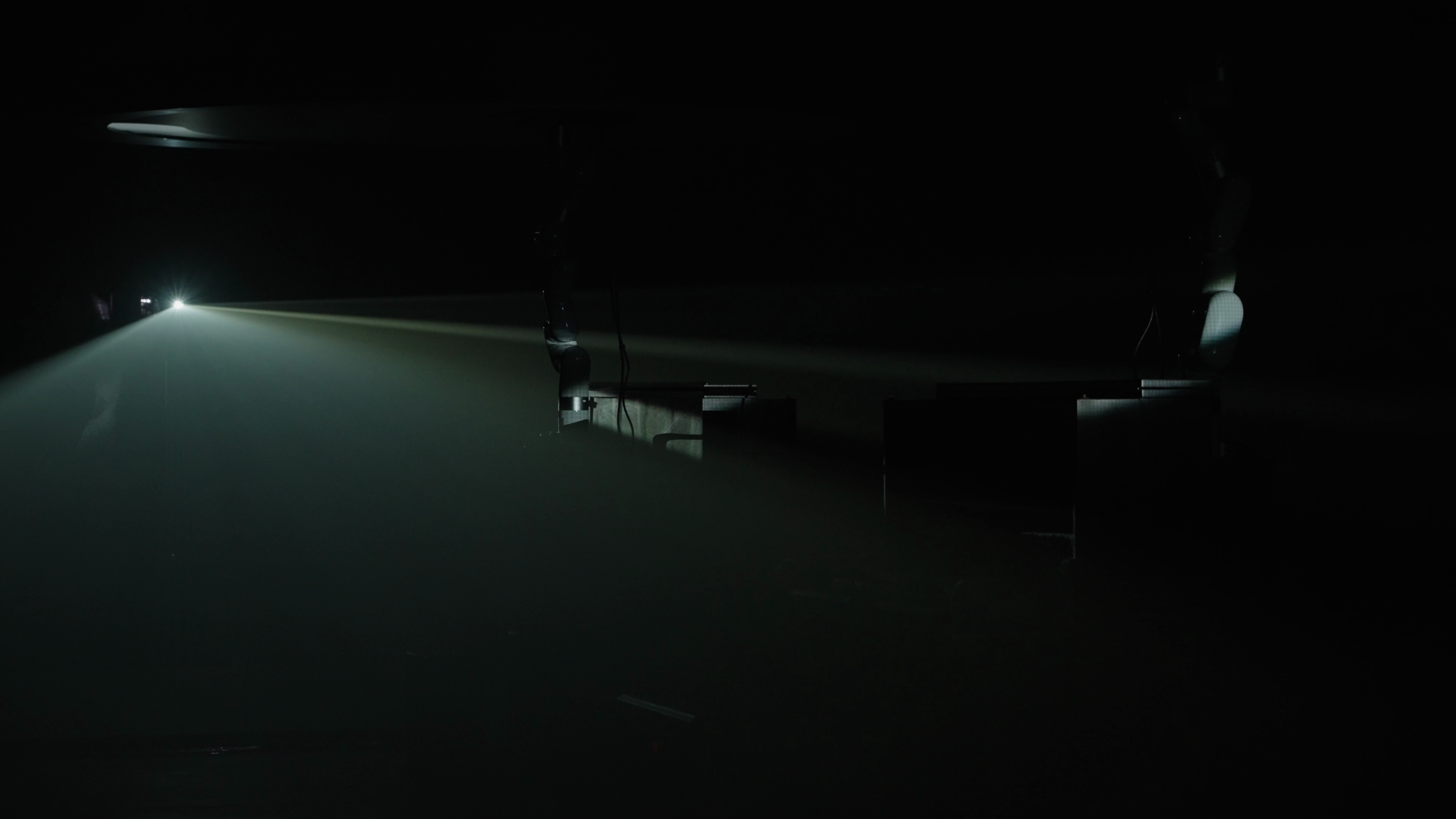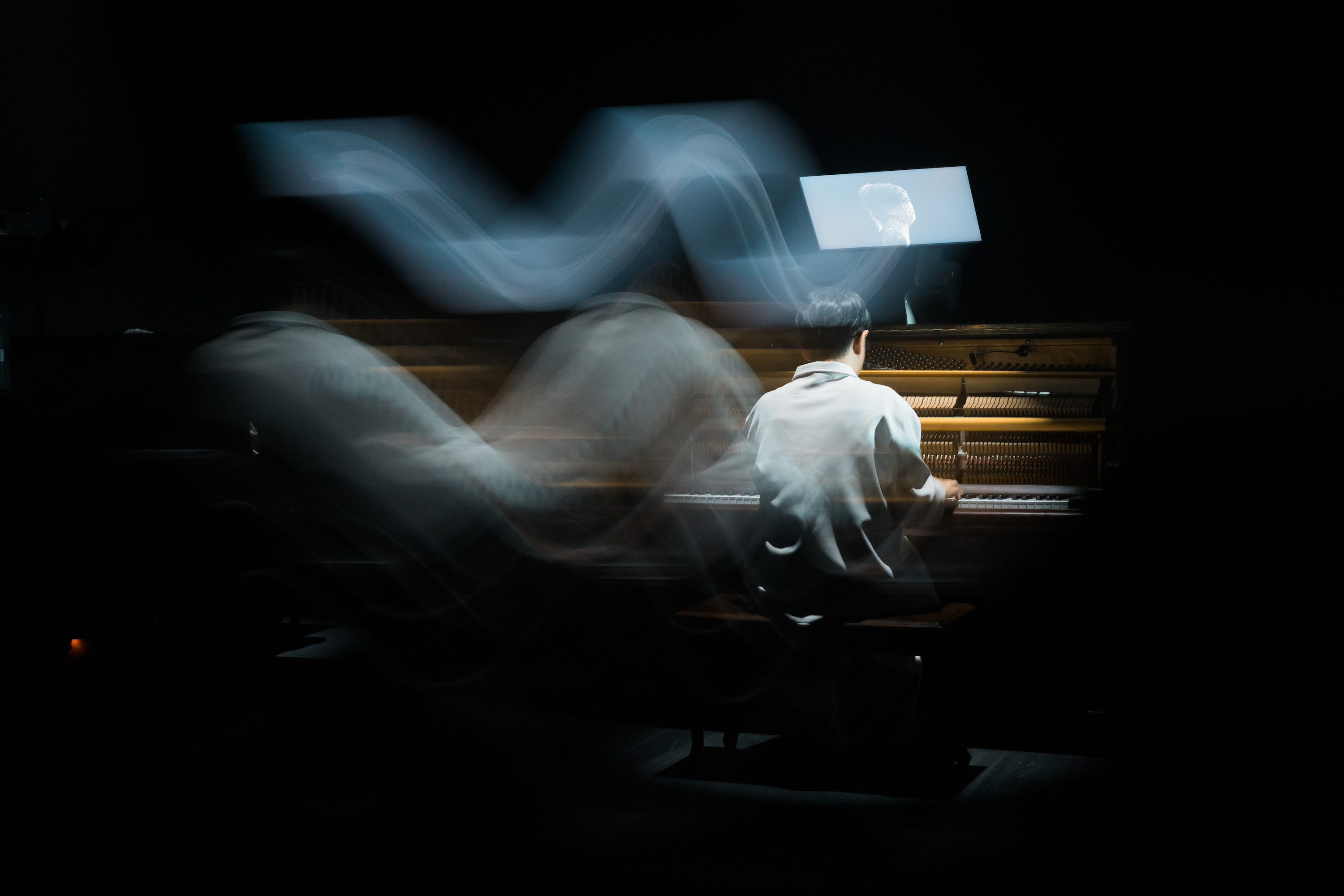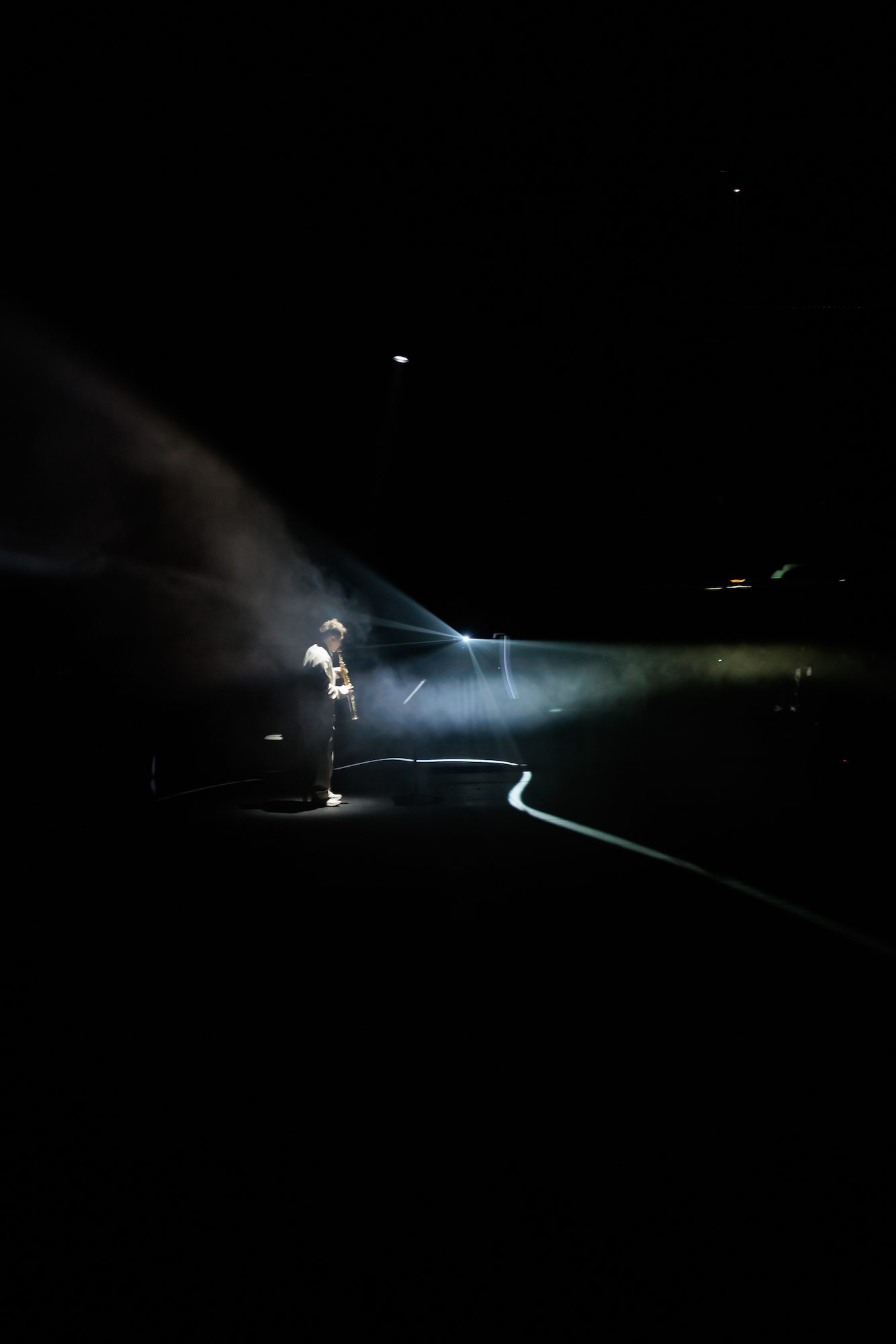 現場演出:
日期︰2023年3月2日至4日
地點︰西九文化區藝術公園 - 自由空間大盒


---
Commissioned and produced by the Hong Kong Arts Festival

---
香港藝術節委約及製作

Producer
Hong Kong Arts Festival

Media Artist, Director
Keith LAM

Music Director, Composer and Performer
Fung Lam

Media Arts Team
Dimension Plus (Seth Hon, Jackie Sze, Keith Lam)

Ensemble
Hong Kong Contemporary Music Group

Saxophone
Charles Ng, Timothy Sun

Recorded performance: Cong Quartet
Violin: Francis Chik, Chow Yip-wai
Viola: Evan Robinson
Cello: Cheng Yan-ho

Lighting Design
MAK Kwok-fai

Sound Design
Kachun @ Miso

Costume Designer
Singchin Lo

Set Deisnger, Production Manager and Deputy Stage Manager
Cermen Cheng

Deputy Stage Manager
Brandy Tsz-ching Lau
Yanki Tsz-long Lau

Director of Photography
Martin CHEUNG

Videographer
Isaac Woo
Matthew Ip
Fok Ho Kwan
Kenneth Lam



監製
香港藝術節

媒體藝術家, 導演
林欣傑

音樂總監、作曲及演出
林丰

媒體藝術團隊
超維度 (韓家俊,史佩霖,林欣傑)

樂團
香港當代音樂團

薩克斯管
吳漢紳、孫穎麟

錄音演出:Cong四重奏
小提琴:戚耀庭、周業瑋
中提琴:Evan Robinson
大提琴:鄭恩浩

燈光設計
麥國輝

音響設計
黃嘉俊 @ Miso

服裝設計
盧聲前

舞台設計、製作經理及執行舞台 監督
鄭慧瑩

助理舞台監督
劉子菁
劉址朗

攝影指導
張震揚

攝影師 (動態)
胡兆軒
葉敬軒
霍浩焜
林健榮


Director's Note

"Behind every image, something has disappeared."

Jean Baudrillard

"In 2017, The Shed at Dulwich, a restaurant in London, asked diners to choose meals from six mood-related categories: Lust, Empathetic, Contemplation, Love, Comfort and Happy. The substantial number of five- star ratings it received made it the No. 1 London restaurant on Trip Advisor.
But it was a fake restaurant, a hoax created by journalist Oobah Butler, and it was his friends who wrote the five-star reviews. Still, after the restaurant gained immense popularity online, it attracted numerous booking inquiries and interview requests from food critics and journalists, with some critics even praising the food in first-hand accounts. The Shed only accepted phone reservations and informed callers that they would have to wait six months for a table.
Eventually, Butler decided to actually serve customers—with instant food presented as haute cuisine and dressed up with herbs. Half of the diners in the restaurant were actors, and a busy kitchen was created with the constant ringing of microwave oven bells. Surprisingly, after eating, some customers left glowing reviews online, giving the food high praise.
We are all informed about the world through artificial images and text. And when it comes to examining reality, we also lack experience in personally witnessing reality in action.
In times such as these, when the boundaries between the virtual and real dimensions are blurred, the things we are told of may not even exist. They are both present and absent, existing and non-existing. Among these shuffled dimensions, our minds are reshaped, becoming a battlefield for an upcoming war—the manipulation of mass consciousness.
An Era of Merged Realities and Hyperrealities

Composed by George Crumb in 1970, Black Angels is subtitled "Thirteen Images from the Dark Land". The concept of Black Angels revolves around the fallen angels. Among them, the most notable is Lucifer, who committed the Sin of Pride in the Seven Deadly Sins, challenging the authority of God, and being banished from heaven. Creating a world of heaven in hell, he becomes Satan, the prince of darkness. The 13 images depict the emotional journey of wandering souls: their "Departure" after losing gifts from the divine, their "Absence" due to the destruction of their souls, and their "Return" after redemption. Crumb saw this work as a metaphor for a world in turmoil, since it was composed during the Vietnam War.

The world in the year of 2022 is still afflicted by ongoing wars and another dimension is now being grandly presented. The metaverse is becoming an independent simulation, projecting real images; imitating and distorting truths; faking reality; and deviating from truth and reality. Artificial intelligence is being self-built through machine learning, with the machine developing and duplicating

its own consciousness. A purely simulated universe is laid over a reality that is not questioned by humans, creating a hyperreality—a "reality" more realistic than actual reality.

The bright future promised by the metaverse will in fact leave us disoriented in the blurred boundaries between the real and virtual words. Will the dimensions we are situated in eventually be replaced by hyperreality, which is boundless, unspecified and lacking any origins?

The cycle of the Black Angels— their departure, absence, and return—never ends in the hyperreal dimension, reoccurring in reincarnation and pervadingly disturbing what was originally real.

When we become muddled in this hyperreality between the real and virtual dimensions in a city of simulacra, we can no longer distinguish truth from lies using the information we obtain through electronic media. This electronic media could even create a hyperreality out of nothing, as in the case of The Shed at Dulwich.

If, in the near future, robots gain self-awareness, if people further lose the ability to distinguish truth from falsehood, and if tricks like The Shed at Dulwich are no longer man-made but created by

conscious machines, what kind of universe will we be living in?

Keep yourself as an other

From 2013 to 2023, I have created Landscape of Cloud, Shuffle Reality, Artificial Reality, and Shuffle Dimensions, presented by the Hong Kong Arts Festival last year (released as an online video production after being cancelled due to the pandemic). Hyperreality is a continuation of my expression of Baudrillard's concept of hyperreality.

During the past 10 years, the world has undergone unimaginable transformations. The past three years under the pandemic led to the severing of boundaries in the real world, in turn accelerating the liberation of the virtual world. People who have become used to working from home and having online meetings, have also become accustomed to the shuffled dimensions of reality and virtuality—have you ever questioned if you are actually having an online meeting with a robot? How can you be sure he or she isn't a form of artificial intelligence giving you instant responses?

In this performance, reality and hyperreality are processed from one dimension into another, creating a new reality. The instrumental installation placed in the centre breaks the performing space into two halves, creating dimensions that neither have clear boundaries nor are stable. The audience can wander across them, experiencing and becoming part of two different dimensions.

Hyperreality isn't intended to explain Baudrillard's concepts, which perhaps demand no explanations, because we are probably already living in hyperreality. We welcome everyone to explore this dimension we have created, inspired by hyperreality —which side is reality and which side is hyperreality?

導演的話

「在大部分影像背後,有一些事物消失」
尚.布希亞

2017年,位於倫敦杜爾維治,一家名叫杜爾維治小屋的餐廳,菜單以心情為主題,提供了六種「心情」供食客選擇,分 別 為「色 慾」( Lust )、「同感 」( Empathetic )、「 沉 思 」
( Contemplation )、「 愛 」 ( Love )、「舒適」( Comfort )與「喜悅」( Happy )大量的五顆星評價令它登上了貓途鷹 (Trip Advisor) 的首位。

這是一間虛構的餐廳,是由一位名為巴特勒(Oobah Butler )的媒體工作者策劃的惡作劇,餐廳評論由他的朋友幫忙虛構。杜爾維治小屋隨後登上了網絡人氣餐廳,獲得了大量訂位的查詢,還吸引了食評和媒體採訪,甚至有食評「親述」其美味和獨特之處。只限電話預約的杜爾維治小屋,每次只會回覆要等上六個月。

最後巴特勒決定真正接待客人:只用一英磅的即食食物,以香草等裝飾成高級料理。一半食客為預先安排好的假扮客人,加上不停以微波爐的叮叮聲營造出廚房繁忙的氣氛,有客人竟在餐後於網上高度評價。
透過人工的影像和文字,我們體驗的是被告知的世界面貌、歷史與當下的真實 — 世人在以缺席現場的方式旁觀和見證現實的運行。

在虛擬和真實的維度邊界模糊的時代,那些我們被告知的事物也許甚至從來未曾存在過,它們既是在場又是不在場,既存在又不存在。在混亂的多重維度之間,我們的意識被重新塑造,並成為了下一場戰爭的場所— 一場意識操弄的混戰。


真實和超真實的混亂時代

克倫姆1970年寫的《黑天使》,副題是「來自黑暗大地的十三個景像」。黑天使的想像,是古代畫家一種保守的設計,是墮落天使的符號。最著名的黑天使,是犯下七宗罪中傲慢之罪的路西法,他因挑戰上帝的權威而被逐出天堂,在地獄建立了一個模擬天堂的世界,並且成為了魔王撒旦。那十三個景像,描寫了靈魂行走的過程,由從恩賜中失落的〈離開〉、靈魂毀滅的〈缺席〉,到重新獲得的〈回歸〉。克倫姆曾說這是比喻紛擾重重的世界喻 — 當時正值越戰。

在戰爭還不斷的2022 年, 另一個維度也華麗誕生。所謂的元宇宙從真像的投射與偽裝、曲解真像,到偽裝不存在的真像、脫離真像與事實,成為一個獨立的擬態 (simulation)。人工生成的真實,通過機器學習 (machine learning),複製甚至 產生自己的意識,把純粹擬仿的宇宙,擲入人類以為的真實當中,產生比真實還真實的超 真實 (hyperreality) 。

所謂的元宇宙一片美好光明,卻使我們混亂於真實和虛擬之間,我們所在的維度,會否終被不具疆域性、沒有所指物、沒有來源的超真實取代?

黑天使的離開、缺席和回歸,在超真實的維度中沒有結束,反而不斷的輪迴繁殖,以另一種更具滲透性的方式干擾我們原有的真實。

迷失在真實和次元維度的超真實邊界,在真實消失( cause the effacement ) 的 擬 仿 城 市 (city of simulacra) 中,我們無法分辨電子媒介所提供的真實,甚至電子媒介可以自行無中生有一個超真實,就像杜爾維治小屋。

如果下一步機器擁有自己的意識,而人類分辦的能力逐漸被干擾到衰退,杜爾維治小屋也許不再是由一個真實的人所虛構,而是由電子意識所虛構的話,下一步我們將活在一個怎麼樣的宇宙?


視自己宛如另一個自己

由2013年到 2023年,由作品《雲圖 境 像》、《Shuffle Reality 》、《人工真實》,到去年香港藝術節的《混序維度》(因疫情取消並變成網上影像作品),《超真實》延續了我對布希亞的超真實概念的自我闡述。

十年的過去,世界經歷了不可思議的巨變,過去的三年在疫情的催化下,真實邊界之間的隔離,反而加速了虛擬邊界之間的大解放。習慣了在家工作和網上會議的我們,也習慣了混序於真實與虛擬維度之間——你曾有一刻懷疑過網上會議前的人是否一位機器人嗎? 你如何確定他或她不是一個 AI 的即時對答?

真實和超真實,由一種維度,被處理成另一種維度,最後成為一個全新的真實。以中央的樂器裝置為中心,把表演空間分裂成兩份,沒有明確的邊界,沒有固定且可變的維度,觀眾遊走於之間,經歷和被經歷兩種不同的維度。

《超真實》沒有意圖闡述布希亞的相關概念,也許根本不用任何人去闡述,可能我們已經在超真實中生活。歡迎大家遊走於啟發自超真實,並由我們所創作的維度當中 — 哪一邊才是真實? 哪一邊才是超真實?