Shuffle Dimensions
混序維度


(2022)


An Era of Merged Realities and Hyperrealities

Composed by George Crumb in 1970, Black Angels is subtitled "Thirteen Images from the Dark Land". The concept of Black Angels revolves around the fallen angels. Among them, the most notable is Lucifer, who committed the Sin of Pride in the Seven Deadly Sins, challenging the authority of God, and being banished from heaven. Creating a world like heaven in hell, he becomes Satan, the prince of darkness. The 13 images depict the emotional journey of wandering souls: their disappointment at losing gifts from the divine, their absence due to the destruction of their souls, and their comeback after redemption. Crumb saw this work as a metaphor for a world in turmoil, since it was composed during the Vietnam War.

The world in the year 2022 is still afflicted by ongoing wars and another dimension is now being grandly presented. The metaverse is becoming an independent simulation, projecting real images; imitating and distorting truths; faking reality; and deviating from truth and reality. Artificial intelligence is being self-built through machine learning, with the machine developing and duplicating its own consciousness. A purely simulated universe is laid over a reality that is not questioned by humans, creating a hyperreality—a "reality" more realistic than actual reality. The bright future promised by the metaverse will in fact leave us disoriented in the blurred boundaries between the real and virtual worlds. Will the dimensions we are situated in eventually be replaced by hyperreality, which is boundless, unspecified and lacking any origins?

The cycle of the Black Angels—their departure and return—never ends in the hyperreal dimension, reoccurring in reincarnation. We become muddled in this hyperreality between the real and virtual dimensions, imposing social order in a city of simulacra overshadowing reality.

Shuffle Dimensions was originally scheduled to be performed in March this year. It was an eagerly anticipated performance, being my first cross-disciplinary production in collaboration with an orchestra. Unfortunately, it was cancelled due to the pandemic. Since then, our discussions and the preparation processes were conducted amid several waves of the coronavirus. As we conduct online and offline meetings, hold rehearsals, start production, cancel plans, film, edit and begin post-production, meeting each other over computer screens, sometimes we get confused about reality and virtuality in the merged real-world and online environment. How can one be sure that we are actually talking to a real person online? How can one verify facts about the world being circulated through the web without travelling?

Shuffle Dimensions aspires to illustrate the existence of a mixed reality, a post-pandemic actuality people have been experiencing during the past few years.

The production initially involved the use of an installation and a live performance, in the hope of placing the audience within a mixed reality. Since it was cancelled due to the pandemic, it is now presented through a film. However, can this format for public viewing replace the face-to-face experience? This is a question I kept asking after the performance was cancelled. I came to the inescapable conclusion that the face-to-face experience is irreplaceable. Since screens cannot ever be a substitute for the stage, we could not document Shuffle Dimensions simply by filming and editing a perfect performance. Instead, short films narrate our process of production, much like a music video or an experimental film. Therefore, we produced Shuffle Dimensions twice during this period, resulting in two completely different versions.

People are now accustomed to living in shuffled dimensions, so how should they approach the blurred lines between fact and fiction in this hyperreal world?



混亂在真實和超真實的時代

"克拉姆(George Crumb)1970年寫的《黑天使》,副題是「來自黑暗大地的十三個景像」。黑天使的想像,是古代畫家一種保守的設計,是墮落天使的符號。最著名的黑天使,是犯下七宗罪中傲慢之罪的路西法,他因挑戰上帝的權威而被逐出天堂,在地獄建立了一個模擬天堂的世界,並且成為了魔王撒旦。那十三個景像,描寫了靈魂行走的過程,由從恩賜中失落的〈離去〉、靈魂毀滅的〈缺席〉,到重新獲得的〈回歸〉。克拉姆曾說這是比喻紛擾重重的世界喻 ——當時正值越戰。

在戰爭還不斷的2022年,另一個維度也華麗誕生。所謂的元宇宙從真像的投射與偽裝、曲解真像,到偽裝不存在的真像、脫離真像與事實,成為一個獨立的擬態 (simulation)。人工生成的真實,通過機器學習 (machine learning),複製甚至產生自己的意識,把純粹擬仿的宇宙,擲入人類以為的真實當中,產生比真實還真實的超真實 (hyperreality) 。所謂的元宇宙一片美好光明,卻使我們混亂於真實和虛擬之間,我們所在的維度,會否終被不具疆域性、沒有所指物、沒有來源的超真實取代?

黑天使的離去、缺席和回歸,在超真實的維度中沒有結束,不斷的輪迴繁殖。我們迷失在真實和次元維度的超真實邊界,在真實消失(cause the effacement)的擬仿城市 (city of simulacra) 中建立秩序。

原定今年三月上演的《混序維度》,是我期待已久、首次與弦樂跨域合作的作品,可惜因疫情而取消。從討論、籌備到準備上演,我們經歷了兩三波的疫情:線上和線下開會、彩排、製作、取消、拍攝、剪接和後期製作。隔在電腦面前開會,有時也混淆了線上線下的真實和虛擬,你怎麼能肯定在電腦面前跟你開會的人是真實的?你都沒有出國,怎麼能確定在網上傳播的世界資訊是真實的?

《混序維度》所描繪的真實和虛擬的混亂,根本就是這幾年大家的經歷,是後疫情時代的實況。

原定上演的表演式裝置音樂會,是希望讓觀眾置身在混亂的虛實之中,但後來因疫情而取消演出,變成了現在的紀錄片。到底這種觀賞體驗能不能代替實體的經驗?這是我在節目取消到拍攝之間思考得最多的問題。而我的答案非常堅定——實體經驗不可能被代替。既然屏幕取代不了現場,那麼影片版本就不可能是單單把已製作好的表演一次過拍攝下來,然後剪接好就了事。現在變成短片拍攝的敍事,有一點點像MV(音樂錄像),也有一點點像實驗電影。於是,這段時間等於做了兩次《混序維度》,而且是完全不同的版本。

習慣了生活在混亂維度的人們,要如何在難辨真偽的超真實中闖蕩?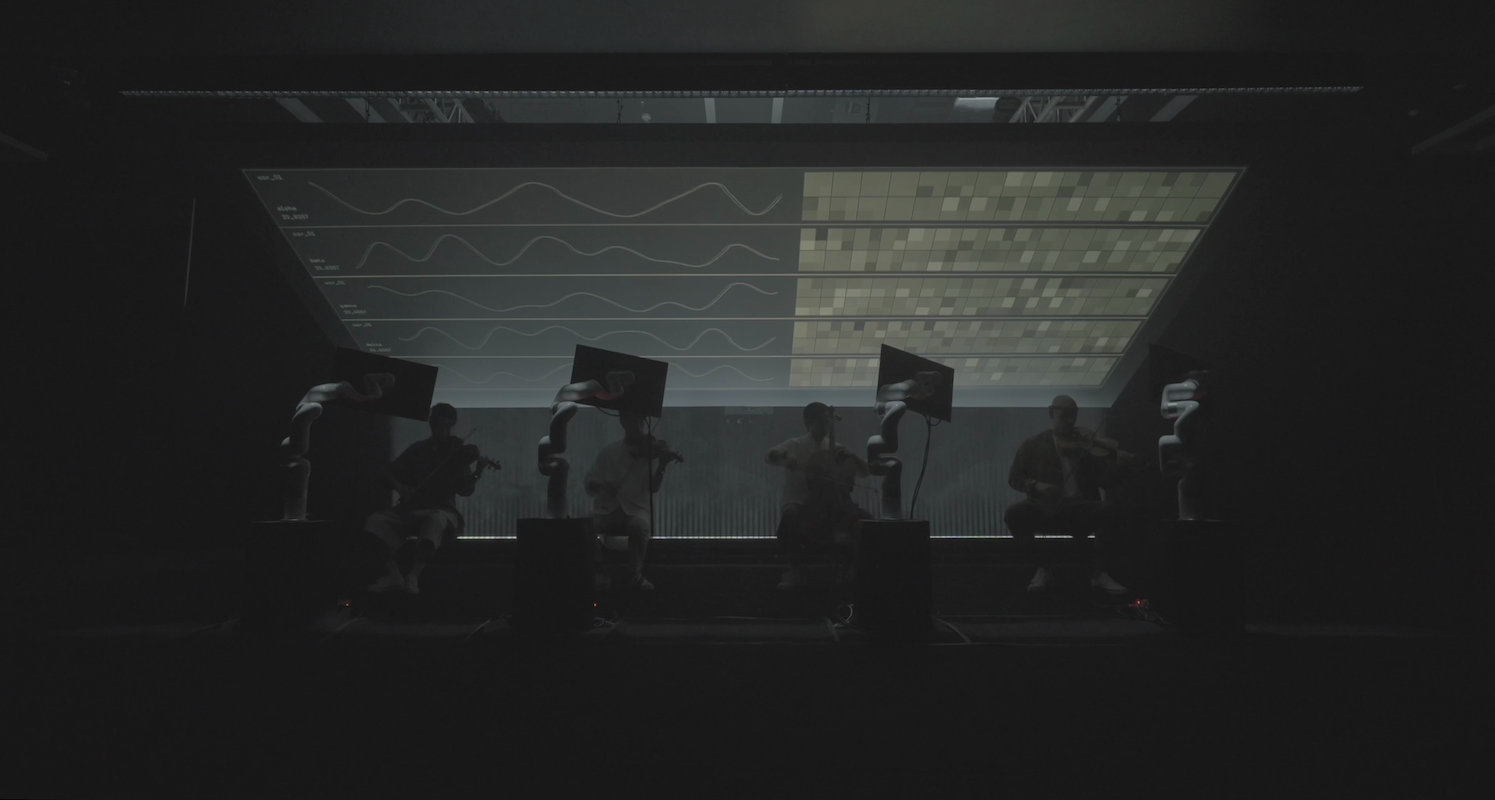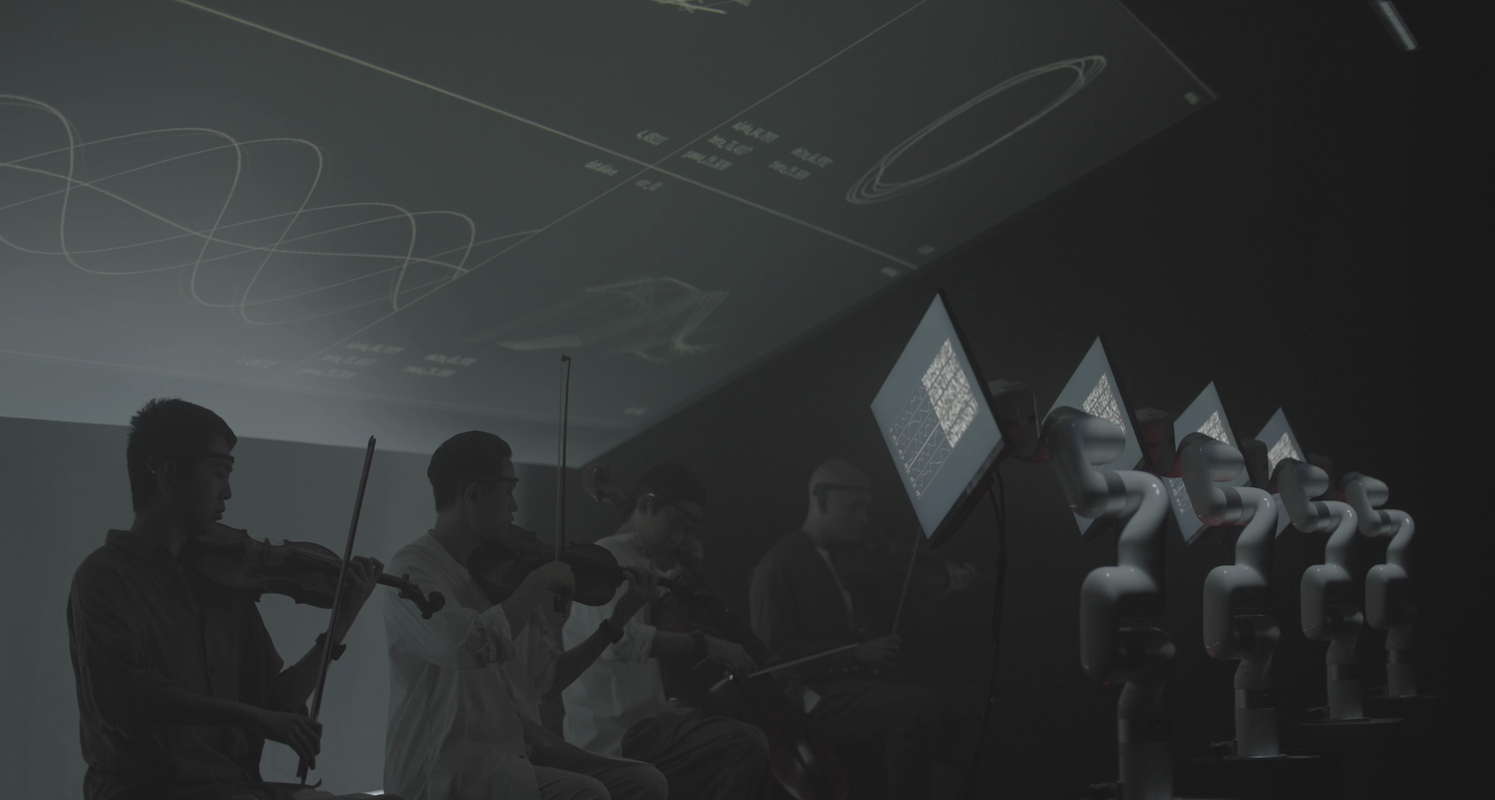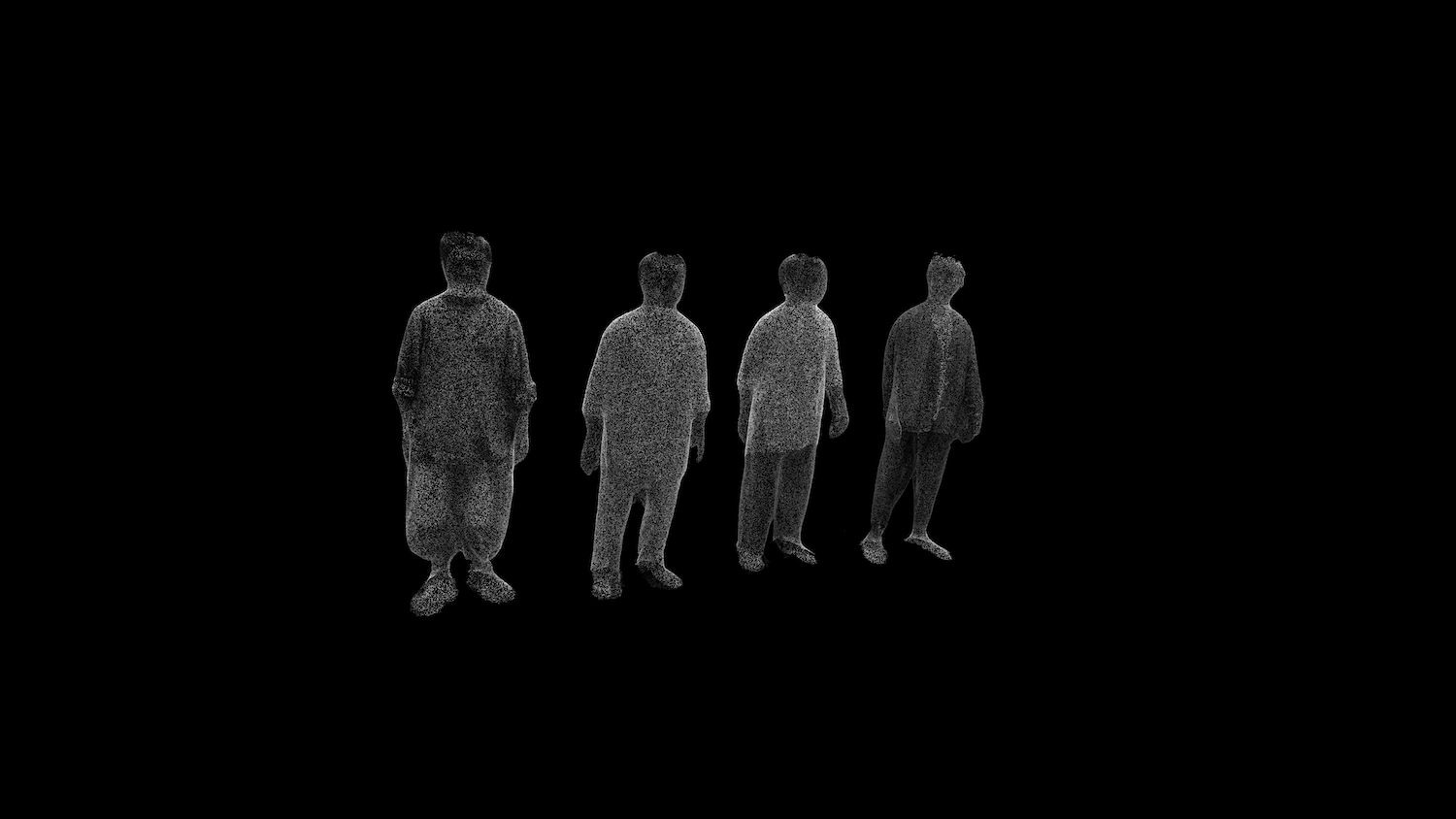 ---
Commissioned and produced by the Hong Kong Arts Festival
"Shuffle Dimension" was part of the 2022 Jockey Club InnoArts Series

---
香港藝術節委約及製作
《混序維度》為2022年「賽馬會創藝科媒系列」作品
Producer
Hong Kong Arts Festival

Artist, Director
Keith LAM

Composer
Alain CHIU

"Fundamental Differences" was commissioned by and premiered at the 2022 Hong Kong Arts Festival and was featured in the Jockey Club InnoArts Series programme Shuffle Dimensions.

"Black Angels" for Electric String Quarter
George CRUMB

"Black Angels" by George Crumb © 1971. Used with permission by C.F. Peters Corporation. All rights reserved.

Cong Quartet
Violin - Francis CHIK
Violin - CHOW Yip-wai
Viola - Evan ROBINSON
Cello - CHENG Yan-ho

Music Consult
CHAN Hing-yan

Creative Coding (Visual, Data)
Seth HON

Creative Coding (Robots, Electronics, Sensors)
Keith LAM

3D Artist
Jackie SZE

Director of Photography
Martin CHEUNG

Camera Operation
Vincent LO
Jarvis WAN
Cheung Ka HO
CJ TSANG

Camera Operation (LIDAR)
Jackie SZE

Editing, Visual Effects, Colouring, Rendering
Jackie SZE
Keith LAM
Dimension Plus

Production Manager (Installation Art, Post Production)
Karl MA

Visual Operation (Data Visualization)
Seth HON
Keith LAM

Robot Operation
Keith LAM

Sound Design
Candog HA

Lighting Design
MAK Kwok-fai

Production Manager
Gloria NGAI

Stage Manager
CHEN Ka-tung

Deputy Stage Manager
Jaime HO

Assistant Stage Manager
CHAN Lok-sze

Stage Crew
Christopher WONG

Wardrobe Supervisor
Jacqueline NG

Make-up and Hair Stylists
Betty WAN

Calligraphy
TSANG Waiyi

Graphic Design
Keith LAM

Graphic Design Consultant
Javin MO

Acknowledgements
PMQ



監製
香港藝術節

藝術家, 導演
林欣傑

作曲
趙朗天

《Fundamental Differences》 由2022香港藝術節委約製作及首演為賽馬會創藝科媒系列 -
《混序維度》的演出作品。

《 黑天使 》 電子弦樂四重奏
喬治. 克倫姆

"Black Angels" by George Crumb © 1971. Used with permission by C.F. Peters Corporation. All rights reserved.

Cong 四重奏
小提琴 - 戚耀庭
小提琴 - 周業瑋
中提琴 - Evan ROBINSON
大提琴 - 鄭恩浩

音樂顧問
陳慶恩

創意編程 (影像, 數據)
韓家俊

創意編程 (機器人, 電子, 感應器)
林欣傑

3D 影像
史佩霖

攝影指導
張震揚

攝影師
盧榮光
溫智豪
張家豪
曾俞汶

攝影師 (光學雷達)
史佩霖

剪接, 影像效果, 調色, 圖像運算
史佩霖
林欣傑
超維度

製作經理 (裝置藝術, 後期製作)
馬杰

影像操作 (數據視覺)
韓家俊
林欣傑

機器人操作
林欣傑

音響設計
夏恩蓓

燈光設計
麥國輝

製作經理
魏婉意

舞台監督
陳家彤

執行舞台監督
何沅穎

助理舞台監督
陳樂詩

舞台助理
黃世榛

服裝主管
吳紀文

化妝及髮型
溫筱敏

書法
曾慧怡

平面設計
林欣傑

平面設計顧問
毛灼然

鳴謝
元創方